| | |
| --- | --- |
| PRICE | Rp10.5 million |
| STATUS | Already released (April 2017) |
| BE | 148,9 x 68,1 x 8 mm, 155 gram |
| PROCESSOR | Exynos 8895 octa-core 2,3 GHz |
| GPU | Mali-G71MP20 |
| RAM | 4 GB |
| STORAGE | 64 GB (microSD up to 256 GB) |
| SCREEN | Super AMOLED 5.8-inch (2,960 x 1,440 pixels) |
| CAMERA | 12 MP & 8 MP |
| BATTERY | 3.000 mAh (fast charging) |
| OPERATING SYSTEM | Dream UX (Android 7.0) |
| NETWORK | Dual-SIM 4G |
| CONNECTIVITY | WiFi, Bluetooth, NFC |
| INTERFACE | USB Type-C, jack audio 3,5 mm, microSD |
| SENSOR | Iris scanner, fingerprint, accelerometer, gyro, proximity, compass, barometer, heart rate, SpO2 |
| MORE | Sertifikat IP68, Fast charging |
Our long wait to be immediately tested the Samsung Galaxy S8 ends on May 5, 2017 last. Yes, on Friday, May 5th, the buyer Galaxy smartphone S8 was able to pick up the order at Samsung Store desired. And here are our thoughts mingle with the smartphone's worth Rp10.5 million.
Advantages
Future smartphones. Samsung Galaxy S8 is the most futuristic smartphone today. With a large screen, compact design, and face almost no bezel, this smartphone looks so futuristic and managed to make another flagship smartphone looks so old-fashioned and old school.
Still waterproof. We do not need to worry when using the Galaxy S8 in wet or dusty places. Galaxy S8 beautiful body would be able to resist the invasion of water and dust thanks to the IP68 certificate. We can take a dive to 1.5 meters for 30 minutes in fresh water.
Best screen. Galaxy S8 has a 5.8-inch landscape display with a gorgeous curved Super AMOLED panel and a brightness of 1,000 nits. No wonder if the display was rewarded as the best version of DisplayMate. Besides being very bright, the Galaxy screen S8 is also very sharp thanks to a resolution of 2,960 x 1,440 pixels they have. In addition to a sleek, this screen is also powerful because it is protected Gorilla Glass 5.
Efficient batteries. Galaxy S8 slim body contains 3,000 mAh battery. This capacity is quite standard and somewhat suspicious, whether through your day? In the battery test using PCMark test, the battery resistance over ten hours.
Meanwhile, when we use the full usage of the internet and social media load plus games, screen-on-time achieved is never less than five hours. Fun again, this battery is also supported by fast charging technology or wireless charging.
Agile and powerful. Indonesia gets Galaxy S8 with Exynos 8895 chipset and 4 GB RAM. As we jajal, Galaxy S8 only takes about 15 seconds to the boot process. Switching applications (multitasking) is also running smoothly. What about the performance of synthetic? Of benchmark testing we've done, the Galaxy S8 managed to carve a score of 171 thousand points on AnTuTu.
Complete biometric sensors. In terms of security, Samsung presents three biometric sensors on the Galaxy S8, ie fingerprint, iris and face recognition. The third sensor performance is fast and fairly accurate. Therefore, we can choose how to unlock the safe liking.
AKG headset. For the first time, Samsung includes a quality headset AKG branded as Galaxy sales package S8. The headset is claimed to have a tag of around Rp1 million. Apart from the price, this headset is proven to serve unanimity and detail.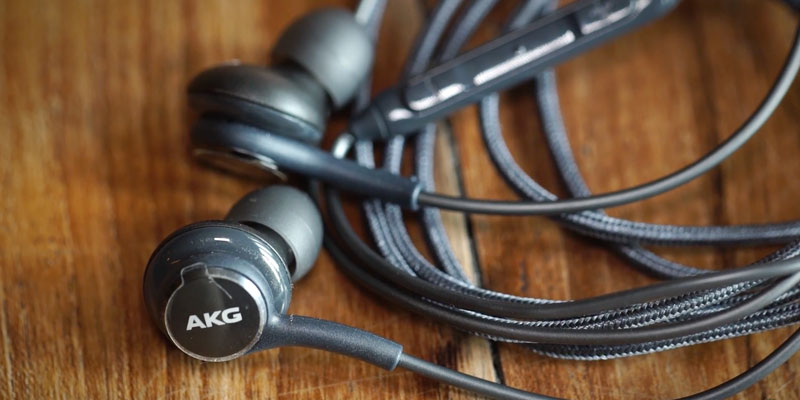 Clear Camera. Samsung has not followed the trend of using the dual cameras on the Galaxy S8. Initially we had a pessimistic with a single camera Galaxy S8. But after menjajalnya, 12 MP resolution camera was still able to fight another flagship smartphone which has dual-camera. To be more confident, you can see for yourself the quality through the photo gallery we've included below.
Deficiency
Fingerprint sensor need adaptation. We included the location of the fingerprint sensor complained in Galaxy S8 unusual. It happened at the beginning of use where we quite often put a finger to the camera. To overcome this, you only need to frequently use this sensor to be used to it.
Mali GPU. Actually there is nothing wrong with Mali GPU-G71MP20 used by Samsung Galaxy S8. This GPU proved strong and powerful, and supports API Vulkan. But unfortunately this one is not yet fully GPU is perfect for playing games because there are some titles that are not yet compatible.
Call it a game Batman: The Telltale Series, Bully, Space Marshals 2, or Injustice 2 are still experiencing problems when played. Starting from the look a cluttered image, graphic effects is not complete, until the stuttering frame rate. But again, only a handful of game titles are experiencing this problem.
Face detection gullible. The front side of the Galaxy S8 contains a camera that can serve to recognize the face in order to unlock the smartphone. His speed is good, but vulnerable fooled. Yes, this facial recognition feature can still be tricked by using photographs.
Conclusion
Samsung managed to get out of your comfort zone to create a smartphone truly futuristic look new. As usual, as the king of the smartphone Samsung Galaxy S8 has a speed above average with the latest features and camera sejubel very unreliable.